Extra Small Mobile Standing Desk - Dynamisk Skoot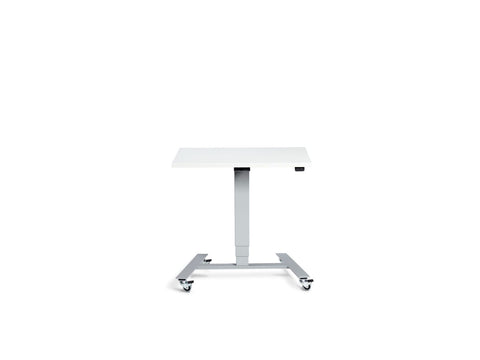 Details
mmThe SKOOT is the answer for your lack of space, prove the benefits of a standing desk, whilst being able to fit it into a small area and wheel out of the way when not required.
At a glance.....
Top size of 800x600mm or 900 x 600mm. 
17 Desk top finishes available, an extra option of a ply edge is available, please contact us if you interested in this.
3 frame colours
4 Optional castor wheels included
Height range 695mm - 1355mm
Weight limit 60Kg
Quality Swedish engineering with a 5yr manufacturers warranty
Available for free next day delivery (if ordered by 11am)
Desks are delivered flat packed for easy assembly
Dynamisk is the Swedish word for dynamic meaning "characterised by constant change, activity or progress."
Dynamisk Skoot is a high quality height adjustable sit stand  extra small desk, manufactured in Sweden from top grade steel. 
This stand up electric desk features soft touch operation, and uses a quiet mono-motor system to ensure that the operator can work at the height that is best suited to them, helping to alleviate the symptoms of back pain, or simply keeping fit!
At only 800mm x 600mm or 900 x 600mm and mobile,  but still available in 3 frames and 17 top finishes this is an all round winner.
The Dynamisk Skoot also comes with a free no-quibble 5 year manufacturers guarantee- meaning that you can be confident of getting a top quality world class product! 
FREE NEXTDAY DELIVERY to mainland UK!
Would you like to see a FREE wood finish sample? Please email hello@emotionoffice.co.uk
Haven't seen the desk size or wood finish you require? Special sizes and colour matching is available, please email hello@emotionoffice.co.uk with your requirement.