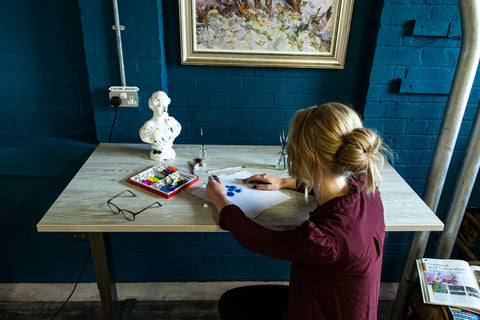 We understand that buying a sit stand desk can be a large financial outlay, and also embarking on a change in working habits, so many could be worried about potential problems.  Please read on... we have listed out any potential problems that could arise, with of course the remedies!
How Do I Know What Desk To Choose?
The number of options on electric desks can be overwhelming so you need to ask yourself a few simple questions....
THE DESK DOESNT MATCH MY HOME OFFICE
Emotion Office offer FREE WOOD SAMPLES of the different top finishes available. There are 17 different top finishes and 4 different frame colours, so we are confidant you can find something that will compliment your existing furniture. If all else fails, Emotion Office sells height adjustable frames only, so you can add your own desk top. If you dont have furniture to match to your choice can be made by how you want to make the room feel:  bright & white? modern? dark & contemporary?
THE DESK DOESNT SUIT MY PHYSICAL NEEDS
Emotion Office has 2 groups of desking, the first Dynamisk 1 goes from 700mm to 1200mm with a weight limit of 100kg. The second Dynamisk 2 goes from 640mm to 1300mm with a weight limit of 120kg. So, if you are a wheelchair user, or are very tall you would be better considering the second group, similarly if you have a lot of weight on your desk, for example 2 or more screens.


If you want to be able to move the desk around you may wish to consider a castor option, this is advised on the Dynamisk 2 desks as they add an extra 40mm to the lowest height of the desk.
CHOOSING THE RIGHT SIZE
Nothing more frustrating than setting your desk up and wishing you had got a bigger desk....(or a smaller desk). Firstly you need to decide if you want a straight desk or a corner desk, and then the size. As a standard next day delivery desk Emotion Office offer the SKOOT which starts at 800x600mm and is mobile, the MINI which is 1000 x 600mm and the standard ranges DYNAMISK 1&2  which go from 1200 x 800mm up to 1800 x 800mm OR a slim top version which is 700mm deep, available in all sizes.
DOES THE DESK COME WITH A GUARANTEE AND WHAT IS THE LEAD TIME?
Emotion Office give a 5yr guarantee on all desks and free next day delivery if the order is placed by 2pm.
Will I Be Able To Assemble The Desk?
It is not difficult to assemble a DYNAMISK desk. It will take approx 1.5 - 2 hours and you will not need any extra tools to those provided. Emotion office will send a link to our assembly video and also provide written step by step instructions. So if you work with the two alongside each other you should be fine, however if you should encounter any difficulties please do not hesitate to give us a shout, one of our trained technicians will be on hand to guide you through the set-up. 
If you want to be able to move the desk around you may wish to consider a castor option, this is advised on the Dynamisk 2 desks as they add an extra 40mm to the lowest height of the desk.
Will It Give Me A Back Ache?
If you use your desk correctly then it will help reduce your back ache rather than give you one! There isn't a prescribed way to use a sit-stand desk, the main point is to keep moving.  Some experts recommend changing position every 20mins, however you may find this too often or too little - you need to listen to what your body is saying to you and respond accordingly. The main point is that its not good to either sit all day or stand still all day long, bring in some movement.
A potential problem when you first start to use a standing desk is you find your feet may get sore or tired, so you may need to reduce the amount of time standing, make sure your footwear is sensible, and you may want to consider a standing mat, which is very comfortable.
How Do I Know My Correct Standing Position?
Your correct standing position will be when your elbows are close to your sides, and your posture is correct. Roll your shoulders back and make sure your neck is straight, allowing the natural "s" curve in your spine. If you elbows start to pull away from your sides it may be the desk is at the wrong height. Make sure you are looking straight ahead at your monitor and not down, we strongly recommend using a monitor arm to save your neck from aching.
You may on the other hand have more than one position you find it comfortable to stand in whilst working, especially if you have a HAG Capisco chair which is a very ergonomically sound chair allowing you to use an extra dimension of a  perching position at your desk, neither sitting nor standing. Many people find this very beneficial. A programmable memory switch fitted to your desk means you can store your favourite 4 positions and go straight to them at the touch of a button.
What If My Desk Gets Stuck In One Position?
Very occasionally if there is a slight interruption to the power supply, your desk will need to be reset. This is a very straightforward and quick process and we have the procedure easily found on our website How to reset your desk, with written instructions as well as a video.
What else.....if you are worried about any other potential problems please do not hesitate to email us .