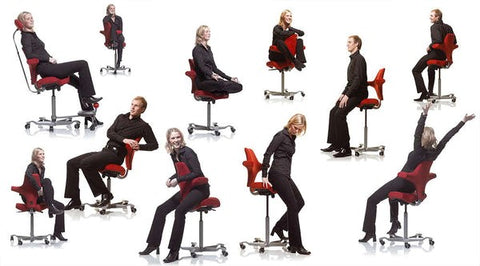 Over 12 million working days are lost each year due to back pain, so this is a very big issue that we need to address and get right!  Let's start with an understanding of what lumbar support means and why we need it. We just need to add at this point that all chairs from Emotion Office have a 5 year warranty in normal use, a 2 year warranty in 24/7 use and the Axia has an outstanding 10 year warranty!
WHAT IS LUMBAR SUPPORT?
Lumbar support is designed to limit the strain on our lower backs, it's usually found in car seats or office chairs, in simple terms it fills the gap between the chair and the lumbar spine.
The lumbar spine is the five vertebrae in the lower part of the spine between the pelvis and the ribs - known as L1 to L5, these are the largest part of your spine. Compared with other vertebrae they are thicker and larger and provide the stability your back needs. The lumbar vertebrae support most of your body's weight and are also the centre of your body's balance.
A standard office chair may look good and feel comfortable but it may not have much actual lumbar support at all, so read on to help you understand what a real ergonomic chair is.
We've chosen this chair as our winner because its a great all rounder, without looking anything out of the ordinary. This chair has won numerous awards, including the FIRA award for ergonomic excellence.
The unique selling point of the Axia Chair is that the angle between the back and the seat remains the same whatever position you are in. So you get it right for you and it stays that way. 
Options on the Axia chair are endless, - they are named numerically from the 3121 which has the shortest back up to the 3124 which has a back height of 540mm.  Any chair in this range already has excellent lumbar support but optional extras are a Memory Foam Seat, A Lumbar Pump and a Coccyx Cut Out.
There is also a choice on armrests - black, polished or upholstered and a headrest option.  
The Axia can be made with an XL seat for larger users, or a mesh back which a lot of people prefer, but it still has the same ergonomic benefits.
The last but not least, final unique feature of the Axia chair is that all controls are on both sides of the seat - so whether you are right handed, left handed or ambidextrous, it's suitable for you.
Originally designed over 30 years ago the Hag Capsico is still an icon. A completely unique but amazingly ergonomic and very popular chair. The saddle seat offers endless ways to vary your posture.  This chair works particularly well with a sit stand desk as with a long stem the chair can be used in a half up/half down, perching position, giving another dimension to your moving/working day.
Whilst you may think the chair looks pretty cool, it doesn't exactly look comfortable  - but it is extremely comfortable and amazingly supportive, suitable for sitting on for long periods of time. The higher position - inspired by the horserider's ability to stay continuously at ease in the saddle, resembles a natural resting position. Your lumbar curve is preserved, your hip joints are open and your legs are free to move. This position is often used with a footring.
As standard the HAG Capisco comes with seat depth and height adjustment, separate back height adjustment and a tilt which can be used in free flow mode or locked in a suitable position for you.
Another very popular extra is a headrest, which can be purchased separately at any time and easily added if you already own a chair but would like that extra support.
The Capsico chair is available in numerous fabric options and also an all leather option which is very eye catching.
The Capisco has a sister chair called PULS, this is an all plastic option, still with great ergonomic support and all the same features.  This is lightweight and easy to wipe down, making it particularly suitable for unique situations. There is an optional seat pad that can be added at any point.
Again, a completely unique chair, bringing Spinal Dynamics into the workplace. The spynamics range is a specialist design for users who suffer from back pain, designed in a modular fashion to ensure each key area of the spine receives optimum support. 
The spynamics chair has a unique Triangulation of Support provided by the pelvic cushion, the two way lumbar pumps and the thoracic pump. The thoracic is the middle section of your spine, it is the longest section between your abdomen and the root of your neck. 
There is a wide range of chairs, some such as the SD3 have a removable lumbar cushion as well as a coccyx relief cut out, a sacral pump, 3 way adjustable lumbar, a thoracic pump plus memory foam seat and back as standard.
All chairs can have any of these features added, as well as a bespoke chair service, whereby you can have a chair made exactly to your required dimensions.
As standard all chairs in the spynamics range come with excellent lumbar support, seat slide, height adjustment, backrest tilt, seat tilt tension control and independent seat tilt adjustment. It is available in a wide range of fabrics, with an optional headrest. Amongst the range is an occupational health recommended chair which is at entry level pricing, suitable for those maybe returning to work or using a Spynamics chair for the first time.  This chair also looks like an ordinary task chair so it won't stand out in the office. 
Spynamics also offer the GRANDE range, which is designed for larger users who are sitting for long periods of time.
Also made by HAG, the SOFI chair is more of a sit back and relax chair than the Capisco, however it doesn't skimp on any ergonomic benefits.
As you can see in the picture below the lumbar support panel can be moved up and down to any position, as well as seat height and seat depth adjustment, there is also an adjustable tilting resistance. The tilt is lockable in any position, there is an optional headrest, as well as several options on the arms which can have a unique slideback feature, so they can be out of the way when you don't need them. The headrest can be ordered at the same time as the chair, or if you are already a SOFI owner you can easily add a headrest.
If we were only showing a comfort score this would most definitely be a No.1!
The mesh back is available in black or grey and you can either have a matching seat or a contrasting colour, numerous fabric colours are available. The SOFI chair is also available in a fully upholstered back rather than a mesh.
The Basic Back Care Range is our entry level chair but it's not as basic as it sounds. Whilst the price is competitive, this chair has a 5 year warranty and is a build your own chair, which can be made to suit solely you and your needs.
The entry level chair is available with a small or medium back or a larger mesh back. As standard every model comes with seat and back tilt, backrest height, seat depth adjustment, arm height adjustment and pump up lumbar. The weight limit is 120kgs.
In the heavy duty range there are small, medium, large or extra large backs, as well as a mesh back option. As standard every model in this range also has adjustment of seat and back tilt, back rest height adjustment, seat depth adjustment, arm height adjustment and pump up lumbar. The heavy duty range is suitable for 24/7 use with a 2 year warranty for up to 150kgs.
An array of optional extras are available in the BBC range, including made to measure seat size, memory foam, headrest and footring, along with numerous fabric colours.
There's a suitable chair for anyone and everyone, look after your back and avoid those painful days off work.