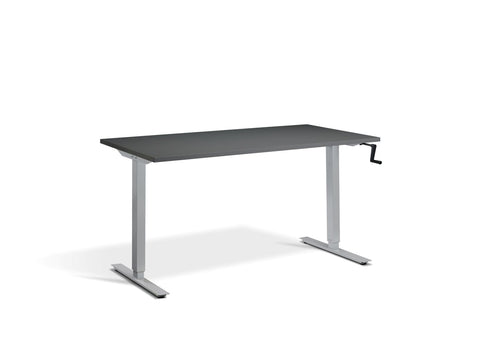 There are many compelling reasons for investing in a height adjustable or sit stand desk and these are well covered in many articles and reviews. We won't attempt to go into this in detail in this article but it is worth mentioning  that they include greater efficiency and output in your work, flexibility and the all important health & postural benefits to you personally.
But what about the big question many of us ask ourselves. Which is truly the better option: Electric or Manual height adjustment?
In this article, we look at the pros and cons, strengths and weaknesses and reasons in favour or against both options, and with our end conclusion & recommendations we help you make the right choice for your own personal situation.
 FIRSTLY WHAT ARE THE DIFFERENT TYPES OF HEIGHT ADJUSTABLE DESKS?
There are two main categories: Electric height adjustable desks or Manual height adjustable desks which are often called crank type or crank height adjustable desks.
Put quite simply, Electric height adjustable desks use electric motors to raise and lower the desk and are operated by a simple up and down switch. Manual height adjustable desks use a cranked handle to raise and lower the desk that is turned by the user.
SECONDLY WHAT ARE THE PROS AND CONS?
We are going to look at the whole range of criteria for adjustable desks and how the Electric and Manual options perform and compare against each other.
1 – PRICE
 Going back 10 years or more when height adjustable desks were a relatively new idea and mainly the preserve of the Nordic nations such as Denmark and Sweden, manual height adjustable desks were much cheaper than electric ones. Now that technology has advanced a long way and the volumes being produced have increased dramatically, there is a much smaller price differential. In fact the difference now is around only 15-20%, with a 1200x800mm Electric desk being around £600 and the equivalent Manual desk around £510. Both of these desks have otherwise virtually identical levels of specification and warranty.
So if price is the all important factor to you, the Manual desk is the winner here but only by a small amount of money.
2 – ELECTRICITY REQUIREMENT
Well this is perhaps the most obvious difference of them all! The Manual desk uses no electricity at all and if this is extremely important to you then this may be the one for you. However what we would point out is that the amount of electricity used by an electric desk is minimal, in fact extremely minimal. Even a powerful twin motor Dynamisk 2 desk can be taken from a sitting height of 720mm up to a standing height of 1200mm 42 times before it costs you 1 pence! It would be unusual to exceed this amount of height adjusting in a week so it's really not going to work out expensive to run, maybe 50 pence per year!
If you have a situation where there is no electricity available to you or you have frequent power cuts, then obviously you will you not be able to adjust an Electric desk up and down. But even if you have a Manual desk and are still able to adjust it, without electricity you will not be able to run your computer, screen, printer or any other piece of electronic equipment that is sitting on your desktop so a Manual desk would only be an advantage if you are simply reading, writing or painting and not using any electrical equipment.
The reality is that there is so little advantage in saving 1 pence per week that it's hardly an advantage at all. 
MECHANICAL & MOTOR ISSUES
It is generally thought that Manual desks have far fewer moving parts than Electric desks but this is not actually the case. Both types need exactly the same moving legs, frames and mechanism to move the desk up and down, the only difference being that one uses a motor to drive that mechanism up and down and the other uses a crank handle and screw arrangement to do the same thing. In reality if you are worried about motor breakdowns, then whilst it would not be true to say it cannot ever happen, it is a fact that as long as you buy a desk with a good quality European made motor and electronics then the likelihood of breakdown is almost non existent. Most good Electric desks come with quality motors, electronics with overheat and overload protection and 5 year manufacturers guarantees. Ask questions about these features before you buy.
– EASE OF ADJUSTMENT
Whilst turning a crank handle is not exactly a terribly onerous task, it is still not the easiest thing to do especially if you have many kilograms of laptops, monitors, monitor arms, keyboards, desktop printers, modems etc to manually move up and down. For anyone with a physical disability or arthritis affecting their hands, wrists or arms this could well be an issue to consider.
Another thing well worth bearing in mind is that the more often you adjust the desk height, even if only by small increments, the better it is for your health and posture because the human body was never designed to stay in one position for any length of time. Therefore an Electric desk that only requires you to lift one finger to adjust the height is many times more likely to make you change your position regularly than turning a crank handle. Moving regularly also adds energy and focus to your work increasing your efficiency and output levels.
 - NOISE LEVELS
Manual desks don't actually make any noise at all themselves, just allow for the occasional grunt you might make yourself while turning the crank handle! Electric desks are not totally silent and if noise is a big issue to you then this might be a concern. But to get this into perspective, at 42 decibels when in full use, our desks are actually incredibly quiet. According to the American Academy of Audiology, 40 decibels is the equivalent to a "Quiet Library" or a "Whisper". This is only one band up from "Leaves rustling" so you are certainly not going to be charged with creating a Noise Nuisance!
6 – OVERHEATING & OVERLOADING
All our sit-stand desks have a built-in duty cycle function to make it impossible for the motors to overheat. Even if you were showing off in front of an audience, you would have to run the motors continuously for 120 seconds (equivalent to 8 times from sitting down to full standing position without stopping once) before the overload protector cuts in to protect the electronics from overuse. Naturally this would never happen in real life situations as typically desks are adjusted between sitting and standing positions approximately once every 30 minutes or longer
HEIGHT RANGE
As a general rule Manual desks do not have such a wide range of height adjustment as Electric. The Dynamisk Manual desks adjust from 710 – 1210mm which is a very good range but slightly less than the Dynamisk 2 with a range from 625 – 1285mm making them suitable for wheelchair users through to folks at the top end of the height spectrum.
8 – WEIGHT CAPACITY
Mostly Manual desks have a lower weight carrying capacity than Electric ones. In many situations this may not present a problem but if your workstation has multiple monitors, monitor arms, modems, scanners and other potentially weighty equipment, then this will need to be considered. The Dynamisk Manual desks have a weight capacity of 80 kgs whereas the Dynamisk 2 Electric desks have a greater capacity of 120 kgs.
9 – PRESET HEIGHT LEVELS
Both Manual crank type desks and Electric ones are infinitely adjustable throughout their range and can be stopped anywhere. One additional very useful feature of Electric desks is the 4 way programmable memory switch which allows you to have 4 pre-set memory settings to suit your favourite working heights or for multiple desk users.
multiple desk users.
10 – EXTRA ELECTRIC SOCKETS/PORTS
Electric desks come with the option to fit a range of different power extension leads to the underside of the desk along with a cable tray and cable port to keep everything tidy. These accessories allow you to plug in laptops, monitors, phones, USB chargers and any other electric equipment.
11 – RESETTING ELECTRIC MOTORS
It is a myth that Electric desks get stuck in one position and cannot be easily reset.
Very occasionally when there is an interruption to the power supply, your desk may need to be reset. This is a very straightforward and quick process and we have the procedure easily found on our website How to reset your desk, with written instructions as well as a video.
CONCLUSION & RECOMMENDATIONS
While we have researched many different aspects of height adjustable desks including those which were once considered to be weak points for the Electric type, we are pleased to have been able to debunk many unfounded and outdated myths. Our conclusion and verdict is that the Electric type are hands down the overall winners.
There are only two reasons we can see for buying a manual desk. The first is if the relatively small 15-20% saving is a deal breaker for you, but we feel all the other advantages of the Electric desk far outweigh this price disadvantage. The second is if you do not have an electricity supply to power an electric desk, but as we pointed out earlier in this article, if that is the case then you will not be able to use a computer, screen or any other electronic equipment which surely is the whole point of having the desk in the first place.
We hope this article has been clear and informative and has helped you make the right choice for your situation. If you have any further questions about any aspects of height adjustable desks, please look at our website or reach out to one of our helpful advisors for more advice 01743 816199.