Slim Top Sit Stand Bundle Deal - Dynamisk 2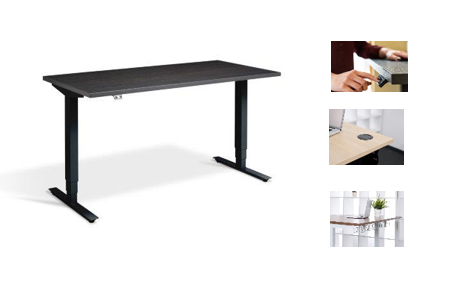 Details
In Stock - you now have until 2pm to place your order for free next day delivery.
The main difference between a 1 and a 2? The Dynamisk 2 has a greater height range and can take more load.
Special offer for a Home Office Slim Top Bundle

 What does it include?......
Twin motor height adjustable desk, option of desk size, frame colour and desk top finish
4 way Programmable Memory Switch
Cable Tidy Port, option of colour
Cable Management Basket 930mm White, SIlver or Black
Optional upgrade to a Deluxe Cable Tray
Free Next Day delivery, unless using install which is 7-10days.
How does it work.....
Choose your desk option then select all the add on accessories, making a colour option for your cable tidy port.
Upgrade options available for twin cable ports and deluxe cable tray at special bundle prices
Optional Monitor Arm add on