Grande+6 Large Bad Back Task/Managers Chair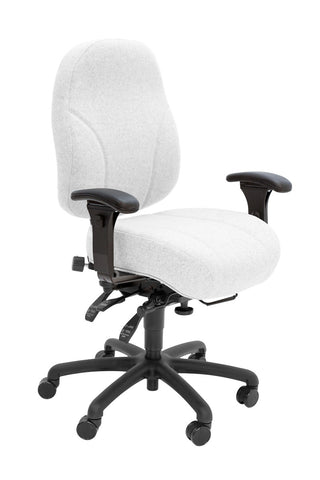 Details
The Grande Chair is a specialist back chair with all the adjustments available to give maximum comfort and support for larger users. The Grande chair has been specially designed to give support to every area of your spine. Suitable for up to 30 stone.
We have shown the chair in 8 colours but there are many more available that can be viewed at camirafabrics.com.
In a nutshell .....
Bad back task/managers chair for large users
Suitable for up to 190kg/30 stone users
Memory Foam seat and back
Seat is 520w x 530d (mm)
Back is 600mm
Optional headrest
Sliding seat adjustment:  70mm
Seat tilt tension control
Heavy duty castors
Seat height adjustment
Backrest tilt and height (ratchet) adjustable: 70mm
2 way adjustable Lumbar
Assess and set-up service available
2 way height adjustable arms
Need help finding the best chair for you? Download and complete this form and send it to hello@emotionoffice.co.uk where we will help you find your perfect size and style. Or one better, we have a qualified specialist who will have a virtual meeting to discuss your needs and help set up your new chair.
Would you like to see a fabric sample? Please email us at hello@emotionoffice.co.uk
Some Extra Info....
Since its introduction in 1999, Spynamics has evolved from a single chair into a range of 14 preconfigured ergonomic and orthopedic chairs, but still allows you to build a bespoke, made to measure version to suit whatever personal back condition your customer may have. The Spynamics family caters for sizes ranging from 4'10" to 6'5" and up to 23.5 stones (150kg). For users larger than this we have the Grande range.
The first Spynamics chair was designed in a modular fashion ensuring that each of the key areas of the spine (the pelvic, the lumbar and the thoracic) received optimal support. Created together with the expertise of osteopath Stephen Green, we have used state-of-the-art material technologies combined with the latest in adjustable seating controls to bring the concept of spinal dynamics into the workplace. One of the unique features of Spynamics is the triangulation of support provided by the pelvic module cushion and the three way adjustable lumbar. We use a pump lumbar on our unique height and depth adjustable lumbar cradle. At the area around your shoulders (the thoracic area) we position a thoracic pump. We have now added the sacral pump for the lowest part of your spine. These combine to provide back comfort and adjustability that surpasses all other orthopedic chairs. The Spynamics range of chairs promote correct seating posture thereby aiding those with existing back complaints as well as helping others to avoid potential problems.