Pepi Task Chair, Mesh Back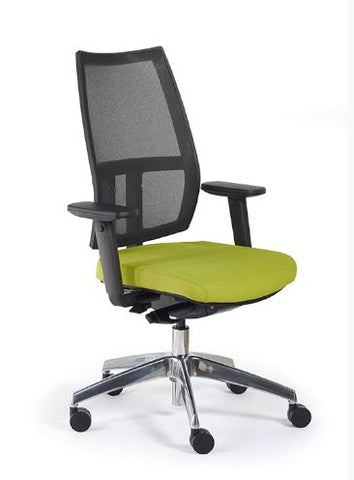 Details
In a nutshell....
Height Adjustable Ergonomic task chair with a black mesh back
Height adjustable arms height and width
Seat Slide
Moulded Foam for increased comfort
Balance or Synchro Mechanism (see below for explanation)
Choice of numerous colours plus a black or polished aluminium base
Other mesh colours available
5 year warranty
Manufactured in the UK
Delivery - 5-10 working days
A task chair with all the adjustments you need plus a black mesh back making it look really trendy and just that bit different. We have listed chair in 21 colours, however if you want even more choice this chair can be made in any of the contract fabrics offered at camirafabrics.com. Similarly we have offered a black mesh back but other mesh colours are available on request (white, red, blue or green). A further choice of a black or polished aluminium base is also available.
Adjustments include height adjustable arms and a seat slide.
The mechanism is available in balance or synchro. What does this mean?
A Balance mechanism enables you to unlock the backrest and use the chair in a free float mode which  automatically adjusts the tension according to your weight. So the seat and back move whilst still supporting your pelvis and lower back and keeping your feet on the floor.
A Synchro mechanism enables you to unlock the backrest and use the chair in free float mode, this encourages movement and rocks the chair in a 2:1 ratio with the  backrest.(This means the back moves twice as much as the seat as you tilt). However the tension is adjustable rather than automatic to suit your individual needs - supporting your back and pelvis, whilst keeping feet firmly on the floor.
Would you like to see a fabric sample? Please email hello@emotionoffice.co.uk