Dynamisk Exklusiv - Real Wood Sit Stand Desk UK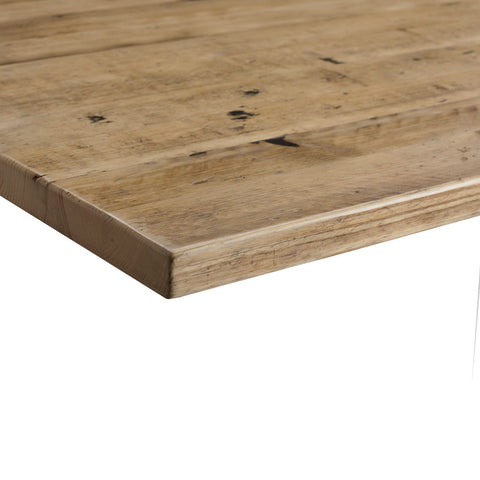 Details
Want something a bit different, go that extra mile and get a real wood desk.
In Stock - you now have until 2pm to place your order for free next day delivery!
What's on offer....
We are bringing you 2 solid real wood tops:
 * SOLID RECLAIMED SCAFFOLD BOARD 33MM THICK
*  SOLID CHARACTER OAK 25MM THICK 
Inset metal batons on the underside give structural strength to the natural planked wood.
And a choice of 3 real wood veneers built on a 25mm MDF core structure with matching real wood edging. Finishes available are:
* NATURAL ASH
* PRIME OAK
* RICH WALNUT
Some spec details....
High-quality Scandinavian engineering
4 Desk Sizes -  1200mm wide up to 1800mm wide, by 800mm deep.
Height range from 640mm-1300mm
Suitable for wheelchair users
Dual motors with anti-collision feature
120 kg load capacity
Free 5 Year Manufacturers Guarantee
DELIVERY TIME: FREE NEXTDAY DELIVERY if you order by 2pm (to most mainland UK destinations)
Install service - 7-10 days (Installers will deliver desk) We strongly recommend this service if you do not feel confident with assembling furniture.
All desks arrive flat packed for self-assembly, see our videos page  for simple assembly instruction video.
Dynamisk is the Swedish word for dynamic meaning "characterised by constant change, activity or progress."
Dynamisk Exklusiv is a high-quality dual motor height adjustable electric sit stand desk, manufactured in Europe from top-grade steel.  Available in three frame colours and five top finishes, this adjustable desk will fit into any office environment, from 1200x800mm (ideal for hot-desking, agile working and telesales role) to 1800x800mm (perfect for executives and managers).
This height adjustable standing desk features advanced anti-collision motors as standard, making adjusting the height of the desk safe, easy, and also protects your pedestals and anything else stored under the desk - as soon as the desk comes into contact with a stationary object, above or below the desk, it will automatically stop and rise/fall by 100mm to allow the user to safely remove the object. The Dynamisk  Exklusiv height adjustable sit-stand desk is also one of the only NEXTDAY height adjustable desks to come with a free no-quibble 5-year manufacturers guarantee - meaning that you can be confident of getting a top-quality world-class product!
Would you like to see a wood finish sample? Please email hello@emotionoffice.co.uk
Haven't seen the desk size or wood finish you require? Special sizes and colour matching is available, please email hello@emotionoffice.co.uk with your requirement.