Dynamisk 4, Twin Sit Stand Height Adjustable Workstation White Frame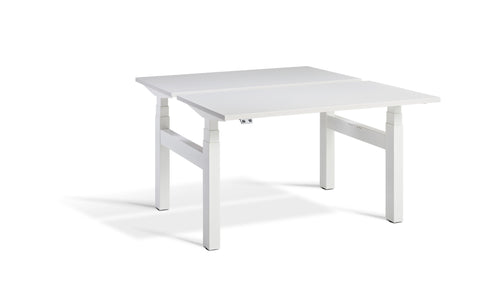 Details
In Stock - you now have until 2pm to place your order for free next day delivery.
In a Nutshell......
High quality Scandinavian engineering
Twin desk, each desk operating independently
13 Wood finishes, 3 Frame colours, 4 Desk sizes
Height range from 615mm-1275mm
Suitable for wheelchair users
Each desk has dual motors with anti collision feature
120 kg load capacity
5 Year Manufacturers Guarantee
DELIVERY TIME: FREE NEXTDAY DELIVERY if you order by 2pm (to most mainland UK destinations)
All desks arrive flatpacked for self assembly, or opt for our installations service.
INSTALLATION: 7-10 days (Installers will bring the desk with them)
Dynamisk is the Swedish word for dynamic meaning "characterised by constant change, activity or progress."
Dynamisk Twin is a high quality four motor height adjustable electric sit stand workstation, giving two independently height adjustable desks back to back on one frame. This allows height adjustable desks to fit in alongside traditional bench system desking seamlessly.
Manufactured in Europe from top grade steel.  Available in three frame colours and nine top finishes, this adjustable desk will fit into any office environment, from 1200x800mm (ideal for hot-desking, agile working and telesales role) to 1800x800mm where there is a requirement for more desk space.
The Dynamisk Twin sit stand desk features advanced anti-collision motors as standard, making adjusting the height of the desk safe, easy, and also protects your pedestals and anything else stored under the desk - as soon as the desk comes into contact with a stationery object, above or below the desk, it will automatically stop and rise/fall by 100mm to allow the user to safely remove the object.
The Dynamisk Twin height adjustable sit stand desk is also one of the only FREE NEXTDAY DELIVERY height adjustable desks to come with a free no-quibble 5 year manufacturers guarantee - meaning that you can be confident of getting a top quality world class product!
Would you like to see a wood finish sample? Please email hello@emotionoffice.co.uk
Haven't seen the desk size or wood finish you require? Special sizes and colour matching is available, please email hello@emotionoffice.co.uk with your requirement