Whale Boardroom Table: Made Entirely From Recycled Materials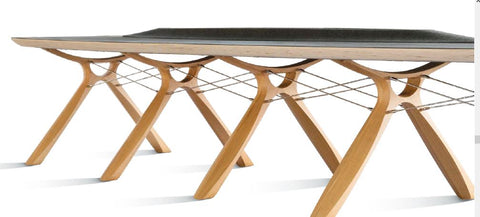 Details
Stop talking and get doing!
This is what Marius Smit and his team have done. They are the first professional plastic fishing company in the world, please watch this short clip and be amazed by the journey they have made.
At a glance.....
Completely unique and stunning recycled boardroom table, inspired by the surfacing whale.
Uses 1004 recycled PET bottles per table.
The table is divided into four modular segments:
      * Top layer - (inclusive blowhole) 4mm pressed and recycled PET bottles
     * Intermediate layer: 9mm robust FSC-certified birch plywood and 30mm layer recycled PET foam
     * Finish lengthways: varnished plywood
     * Finish ends: 5mm PET foam layer with 3mm lasered metal plate, text "This table is made from Amsterdam Canal Plastic"
     * Table legs - PEFC - certified European Oak
     * Metal spreader bars chrome-plated. 8mm thick
     * Length 4000mm
     * Width table top 1400mm
     * Width legs 996mm
     * Height 754mm
 Please email hello@emotionoffice.co.uk for more information on the this beautiful table.