HEMP CHAIR - 100% BIOLOGICAL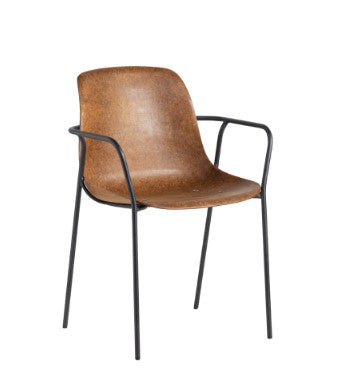 Details
Wow - The first chair in the world to be made from a unique biomaterial. This means the hemp and resin used are:
100% biological
100% plant-based
100% recyclable
What makes this chair truly 
unique is that it can shredded 
and turned  back into a chair again 
without adding chemicals or 
other substances.
Hemp is one of the fastest growing plants on the earth, in addition it is super strong and absorbs CO2. This results in a negative CO2 footprint for the production of the chair. The advantages of Hemp are that it grows without artificial fertilizer or pesticides and hardly requires any water. The residual waste of fibres from Hemp processing is used as raw material to make the seat shell of the chair.
The stackable hemp chair comes with or without an upholstered seat and you can add arms as an extra. The seat pad is made from 100% recycled polyester. We have shown 8 of our most popular colours, however the seat pad is available in many more colourways, please email hello@emotionoffice.co.uk if you have a specific colour in mind.