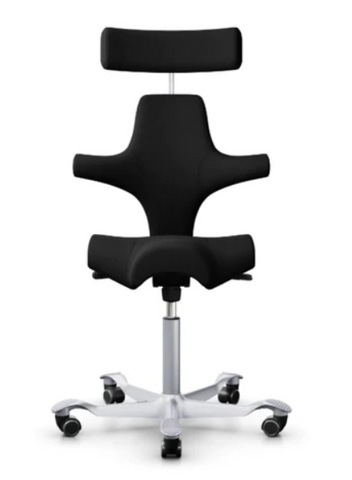 WHY BUY A HAG CAPISCO CHAIR?
In this post we look at the different aspects of investing in a Hag Capisco. This article will help you get a balanced view of the pros and cons of this enduring design icon and why it has continued to grow in popularity ever since it was first designed 38 years ago in 1984! We have divided it into 9 separate areas to save you time and allow you to research the aspects that particularly concern you without having to read a load of unnecessary detail.
1. Ergonomics, support and flexibility 
First a bit of history about this outstanding ergonomic chair. Designed in 1984 by Peter Opsvik, world renowned designer from Oslo in Norway and inspired by the posture of a horse rider. The principle of the saddle seat is that you tilt forwards in your seat with your hips higher than your knees and this immediately improves your posture and helps your natural lumbar curve. It challenges the traditional idea of a chair that attempts to make you comfortable in one position, instead inspiring the user to move and adapt to varied positions all whilst using the one chair. Peter's whole approach to the design of this unique chair is to inspire movement and make you more dynamic in your sitting whilst being supported in a balanced position. The unique shape of this chair offers a wide range of ways to sit, perch, or half stand all the way up to full on standing and working. The shape and form of the Capisco encourages continual movement and changing of position whether you are sitting forwards, sideways or even backwards as this inspiring video shows.  The human body wasn't designed to sit, let alone to sit in one position for long periods. This is why Peter believes you should let your body tell you how to move, coining the great phrase "your next position is your best position" – in other words, keep moving! By the way, you will probably spend more time with your office chair than you do with pretty well anyone or anything else, so it's worth getting it right! The benefits of constant movement include strengthened muscles, improved posture, increased metabolic rate, better concentration levels and greater focus.
To round up this section, the Capisco is uniquely and ergonomically designed to allow you to continually move and sit in practically any position with excellent dynamic comfort and support. True excellence!
      2. Features of the chair
Saddle shaped seat inspired by horse riding. Adjust seat for height from sitting to standing.
Seat depth. The seat can be adjusted closer or further from the back to get the correct support to suit you.
Unique backrest incorporating elbow support. Adjust for height to suit you.
Foot support is integral within the 5 star base giving comfortable and variable foot positions.
Tilt function. This can be locked or unlocked to fix the seat position or allow it to rock.
Tilt resistance. The same rocking function when in tilt mode can be adjusted for tension to suit you best, giving comfort and support.
Headrest (optional) adjusts to provide extra comfort and support for your head, shoulders and neck. This option can be added when you buy your chair or retro fitted to an existing chair.
Step Up footrest (optional) this can be added when you buy your chair or retro fitted to an existing chair, giving yet more positions for your feet and stimulating further movement.
Footring (optional)

this can be added when you buy your chair or retro fitted to an existing cha

ir,

 giving support for feet and legs when seated at higher level.
3. Sustainability and Durability
Truly one of the most sustainable chairs in the world using circular design principles. It won Europe's Best recycled plastic product in 2105, boasting 95% of polypropylene plastic being mostly recycled from post-consumer plastic waste. In 2010 it became the first ever office chair to win the acclaimed Nordic SWAN Ecolabel. At the end of it's useable life, it is very simple to dismantle into it's few component parts making it very easy to recycle.
4. Cost
The Hag Capisco is not a cheap chair and if cheap is what you are looking for then the Capisco is not for you. The old proverb "you get what you pay for" certainly holds up when it comes to a good quality ergonomic chair. The Capisco whilst not cheap, certainly delivers excellent value for money if you are wanting to look after your health and improve your posture whilst sitting.
5. Quality, longevity and guarantee
Hag guarantee the Capisco chair for 10 years in normal use conditions for up to 9 hours per day. The chairs are made from high quality, durable materials under the ISO9001 quality system and are rigorously tested giving trouble free service over a long life. You can have peace of mind when choosing a Capisco, that you are paying for a long lasting high quality chair.
6. Style, looks and aesthetics
Personally I love it! Maybe it's a love or hate thing but although the design is now 38 years old, it still looks very modern, "out of the box" and it has unique designer style. Some people say it's weird, some say it's beautiful, some striking, some cool. It's certainly different and you'll have to make up your own mind on this point although I guess if you're looking for a great chair that will help your posture, maybe looks is not the most important thing? However if you want to make it your own very personal choice, with options on frame colours and fabric choices, you can customise your own chair and make a statement. 
 Why not really go to town? 
Or play it safe?
7. Is it suitable to use with a height adjustable desk?
Is it suitable? The answer is a resounding YES, in fact it's ideal for use with a height adjustable desk or sit-stand desk as they are also called. It's so simple to change from sitting to half standing or perching whilst simply moving your desk height to complement it as the video on this page shows very effectively. If you feel like sitting sideways or even backwards to vary your position, you can adjust your desk height at the press of a button. Combining the Capisco with a height adjustable desk truly embodies dynamic working and allows your body to tell you how to move, don't forget "your next position is your best position". Many people use the height adjustable desk and Capisco combination and swear by it!
8. Are spares and accessories available?
There are many spare parts available, from castor wheels to replacement gas lift stems and footrings, plus there are options to choose from and retro fit even after you have had your chair delivered and started using it. Take for example the elegant and comfortable headrest that simply bolts into place on an existing chair, or the Step Up footrest which can be retro fitted giving yet more positions for your feet and stimulating further movement.
 9. Is it a "sink into" comfy chair?
The answer to this is a definite NO! This chair was not made to sink into and curl up and go to sleep in. Yes it's certainly incredibly comfortable and supportive, but it's all about movement, healthy energy and dynamic posture. Having said that with a headrest and Step Up maybe you could have a quick comfortable nap!
 Relax!
 Chill!!
And finally in conclusion
In short, I personally am a firm believer in the Capisco. I use one every day I'm in the office and on the odd occasion when I have to let someone else borrow it, I find myself counting down the hours to when I will get it back again!
It's far from your average or typical chair, in fact it's a very exceptional, extraordinary chair.
It may not be everybody's cup of tea, but one thing is for sure – if you are looking for a very high quality, ergonomic chair that will give great support, help you keep your body moving and promote improved posture, this chair should be right up the top of your list👍.